US
What Trump's four years taught me about the two White Americas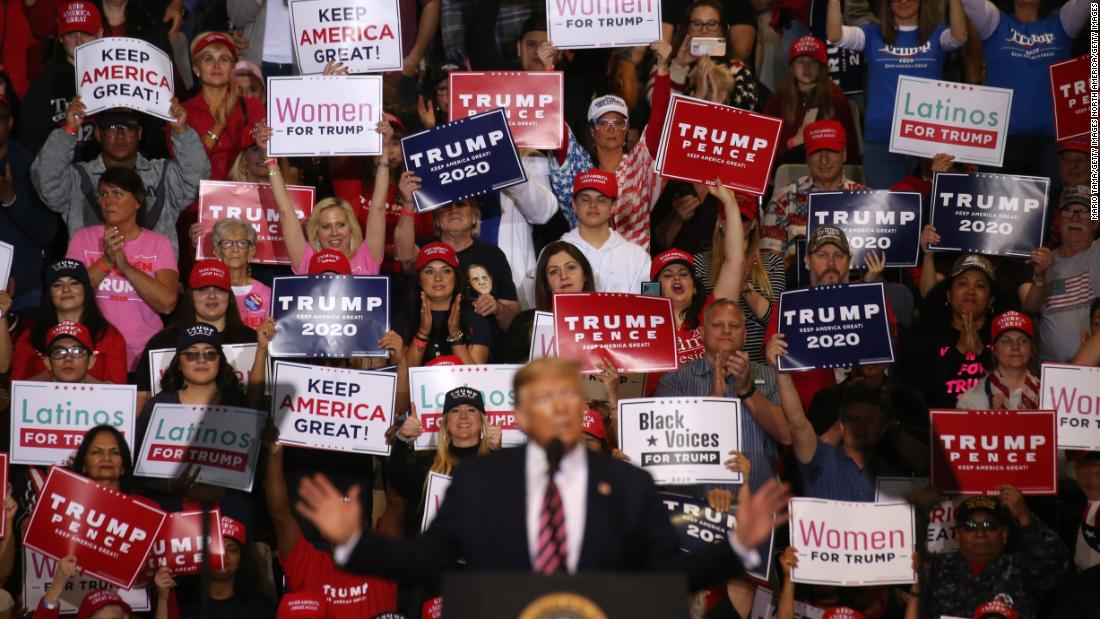 He has freed us of any illusions we may have had about a certain segment of White America.
Even though Joe Biden won this election, Black America has lost some measure of hope. It was heartening to see so many White people dancing in the streets Saturday after Biden's victory was announced. But the fact that a president who is
widely viewed
as a racist can still command so many White votes — after also
playing down
a pandemic that has killed at least 234,000 Americans — is chilling.
I'm still trying to digest that side of White America. Trump's 2016 victory could be dismissed as a fluke, the political equivalent of a banked three-point shot against a flawed opponent. But Trump's ability to make this presidential race so close after what America has seen and heard these last four years is proof that our country has a large, durable White constituency that is willing to ignore or support explicit racism.
That segment of White America has taught me some lessons about America that I don't think I will ever forget.
Trumpism's bitter truths
Yet Trump built a White wall of racial resentment among his supporters that refused to collapse, no matter what he said or did.
His hold on a certain segment of White America seems so mystifying to many of us that one Black scholar used the language of addiction to describe it.
"It has made millions of Americans forsake their God and jettison their patriotism just to get a taste," she wrote. "High on its effects, its users felt powerful, heady, even as they and everything around them disintegrates."
Two sides of White America
But my education doesn't end there. In fairness, the Trump era also taught me about another side of White America.
I now know that there are countless White Americans who swallowed tear gas and took rubber bullets to the face while standing shoulder to shoulder with Black and brown anti-racism protesters.
I now know that many White Americans were so disgusted by what they saw and heard these last four years that they turned out in record numbers to vote against Trump.
I now also know that I'm not the only Black person who feels this.
"That we have never had so many White allies, willing to stand together for freedom, for honor, for a justice that will free us all in the end, even those who are now most fearful and seething with denial."
Still, it's what I don't know that is most unsettling.
What if there was no pandemic? What if the economy was still humming along and most people's 401(k)s were nice and fat? Would that have been enough for most White Americans to return Trump to office?
Would they have found a way to rationalize Trump's racism, or minimize it by calling it something else like "ethnonationalism" or "racially charged?"
Trump's presidency was a super-spreader event for racism. But I wonder if much of White America has built such a tolerance for racism that they see no need for change.
The hardest lesson of all
But I have experienced emotions over these past four years that I never expected. I have seen former White friends — people I thought I knew — gloating on social media about Trump's racism. I have heard many of my friends and family members say they hesitated to go out in public on Election Day because they were afraid of being attacked by angry White people.
Those are the same type of stories I heard from older relatives who traveled through the Jim Crow South.
The morning after Election Day was even worse. My phone lit up with texts and voicemails from disbelieving friends and relatives. One friend said he couldn't believe that so many Americans would vote for a man whose administration snatched children from the arms of migrant mothers. A relative told me he thinks White voters "don't give a sh*t" about us," and that he's ashamed to be an American.
Maybe millions of White Americans will never accept me as an equal, no matter what I or others like me do.
I'm thankful for the many White Americans who risked their lives to stand with Black protesters and other people of color this year.
But I now know that millions of White Americans remain MAGA all the way, even though Trump lost. Some of them even took to the streets this week to claim the election was stolen.
Trump may be defeated, but Trumpism and its brand of White racial grievance are here to stay.
That's been the hardest lesson of all.
Source link