US
Over 60 million under winter weather alerts as rain and snow impact the East Coast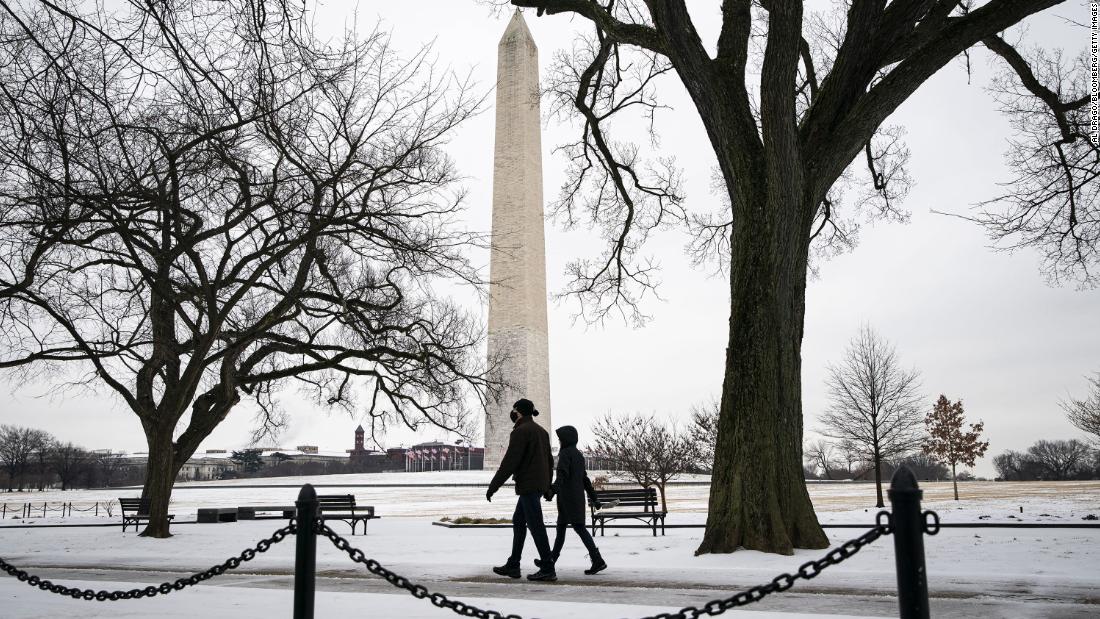 However, right now there are still over 60 million people under winter weather alerts and over 25 million under a
hard freeze warning
.
A slow warming can be expected across the South, but, temperatures will remain much below normal into the weekend, according to the National Weather Service.
A system in the Northwest is expected to produce rain and mountain snow. And the NWS is warning that a "cold front will produce a wintry mix in the Mid-Atlantic and Northeast with heavy rain that could cause flash flooding in the Southeast." But, by next week temperatures are expected shoot up to the 60s and 70s.
To date, there are 38 confirmed deaths caused by the wintry weather since last Thursday — and that number is expected to rise.
Power still not back
Plus, there's the issue of leaks caused by frozen pipes. In Austin alone, the state capital's water supply lost 325 million gallons due to burst pipes, Austin Water Director Greg Meszaros said during a press conference Thursday. And about 13 million Texans, nearly half the state's population, are under a boil-water advisory, according to Executive Director for the Texas Commission on Environmental Quality Toby Baker.
Ehren Williamson told CNN he counts himself among the lucky Texans after having his power and water restored in the last 24 hours. But now Williamson has to worry about finding food to eat, and drinking water as there continues to be a boil water advisory.
"We went to multiple H-E-Bs and searched for about six to eight hours Tuesday for food," he told CNN by phone from Pflugerville, Texas.
Today, Williamson waited in line for an hour at an H-E-B. Once inside the store, there was no water to be found anywhere.
"We had no warning," he said. "We were given the impression that it wasn't going to be bad. I didn't even see the rolling blackout warnings. It just went dark."
Had he been warned, he said he would have stocked up on food, water and a backup generator.
Other states also dealing with snow & ice
But Texas is not the only state feeling the fury of the winter weather.
In Wayne, Pennsylvania, people are scrambling to try and clear the slushy snow before it freezes causing dangerous conditions, according to CNN affiliate 3CBS Philly. Wayne received 10-plus inches of snow during the storm. And now people are concerned what's left after shoveling sidewalks and driveways is freezing and will make the roads slippery.
"Well it kind of sounded like somebody blew off some dynamite the way it came down and just hit real hard," resident Hope Woods told WXII 12. "We were brushing our teeth and I was like 'OK I hear a bunch of commotion.' So we look out the window and there's this giant tree crushed on all the cars."
But, despite the hardships being faced across the country, there are stories of hope.
"Your regular hospital staff that needed to be there, your maintenance staff, your security guards, they're essential as well. Yes, they're not directly treating patients, but the doctors and nurses need them there," Poush told WPVI. And he's encouraging others to help out in their communities as well.
Warmer temperatures ahead
There are still over 25 million under a hard freeze warning in parts of Texas, Oklahoma, Arkansas, Louisiana, and Mississippi. But, by the end of the weekend temperatures will slowly be out of the sub-freezing range. And by next week, they're expected to be in the 60s and 70s.
In the Northeast, over 60 million are under winter weather alerts, but a vast majority of them will expire by the end of Friday. Ice accumulation is expected in parts of North Carolina, Virginia, Maryland, Delaware, New Jersey and Pennsylvania. And much of the Northeast will see at least one to three inches of snow by the end of the storm system.
The eastern parts of the Carolinas and Georgia are under a flash flood watch and expect to get around one to two inches of rainfall.
Robert Shackelford contributed to this story.
Source link