US
Opinion: Biden can't let Sinema and Manchin short-circuit his Supreme Court nomination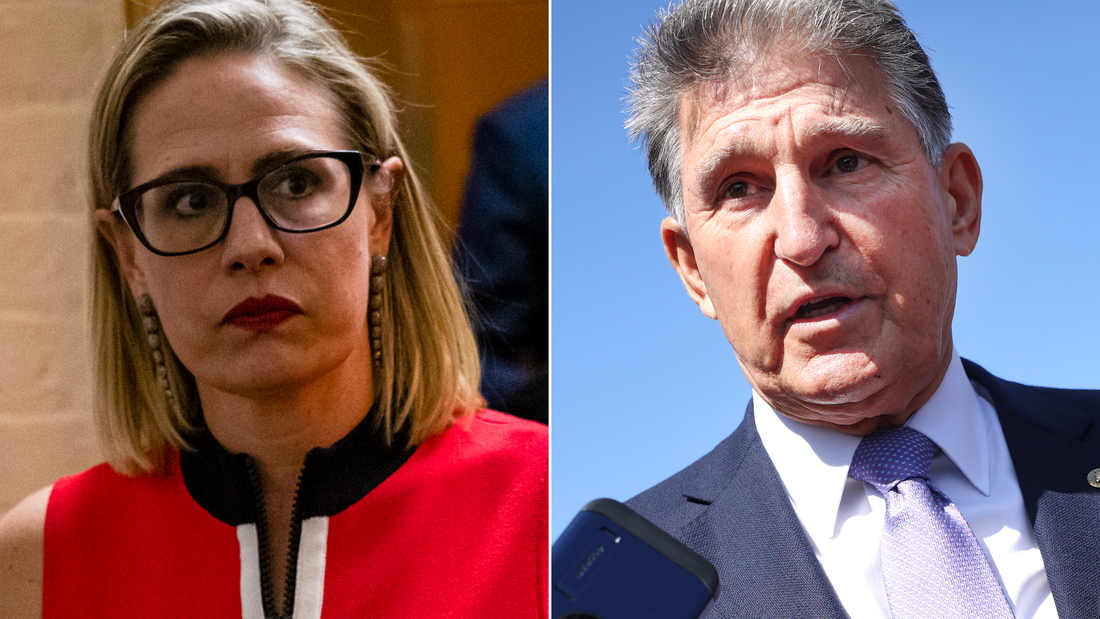 A few potential nominees have already been floated around. DC Circuit Judge Ketanji Brown Jackson, who has experience as a public defender, has already survived the vetting process
because of her appellate appointment
. Leondra Kruger, one of the youngest appointees to the California Supreme Court at age 45, clerked for the late Justice John Paul Stevens and served as acting deputy solicitor general under former President Barack Obama. There's also South Carolina US District Court Judge J. Michelle Childs, who has
strong support from
House Majority Whip James Clyburn.
On paper, it should be smooth sailing for Biden to get his nomination confirmed. Since Senate Republicans carved out Supreme Court picks from the filibuster in 2017, the President only needs a simple majority to move through the confirmation process.
But the reality is likely to be messier. With the midterms approaching, Senate Republicans are likely to oppose the nomination — whoever it is — and use it to rally the base. Senate Minority Leader Mitch McConnell and his troops could warn that Biden's pick will threaten constitutional rights and open the door to all sorts of dangerous decisions — whether it be protecting women's reproductive rights, allowing for stronger controls of gun sales or permitting federal mandates for life-saving vaccines.
Biden should be able to ignore all of that — if he has the support of Sens. Joe Manchin of West Virginia and Kyrsten Sinema of Arizona. But this raises the question of whether the President will face a repeat of the Build Back Better battle, with just two Democrats tanking the party's ability to move forward and allowing the Republican minority to rule the roost.
When we look back on US history, there have been a few Supreme Court picks that have caused intra-party divisions. In 2018, Sen. Lisa Murkowski of Alaska broke with the Republican Party to
vote against Justice Brett Kavanaugh
, following accusations of sexual assault that emerged in the hearing process. (Kavanaugh has adamantly
denied all accusations of wrongdoing.
) In 2006, Sen. Lincoln Chafee of Rhode Island, one of the last Northeastern moderates in the GOP who was up for reelection in a Democratic state,
voted against confirming Justice Samuel Alito
to the bench. In these and other recent cases, a vote here or there was not decisive.
To be sure, there are other instances when intra-party dissention mattered more. When former President Richard Nixon nominated Clement Haynsworth in 1969, a bipartisan coalition of 17 Republicans and 38 Democrats
ensured his defeat
due to charges of ethical breaches and his hostile positions on unions and racial integration. Nixon's next pick, G. Harrold Carswell, also went down in bipartisan defeat because of his record on segregation.
With the Biden administration and the Democratic Party already facing a difficult moment, they can't afford any defections with a slim, 50-vote majority in the Senate. This nomination also has the potential to generate some much-needed excitement within the party going into the midterms, allowing the President to make his mark on a Supreme Court that now has a formidable 6-3 conservative block.
Some Democrats might assume this will go smoothly. After all, how could Manchin or Sinema possibly cause problems in what would be a signature decision by the administration? We shouldn't underestimate the willingness of these two senators to go against the grain, having forged identities as the voices of "moderation." If McConnell — with the help of Fox News and other right-wing media outlets — can paint Biden's nominee as one more example of a radical leftist agenda, it's not difficult to imagine Manchin and Sinema claiming the mantle of bipartisanship to vote no until they can force the President to nominate someone as far to the center as possible.
This is a pivotal moment, and Biden can't afford to let Manchin and Sinema short-circuit his administration again.
Source link