US
Analysis: Trump's anti-democratic 2022 playbook takes shape as Biden faces off with Putin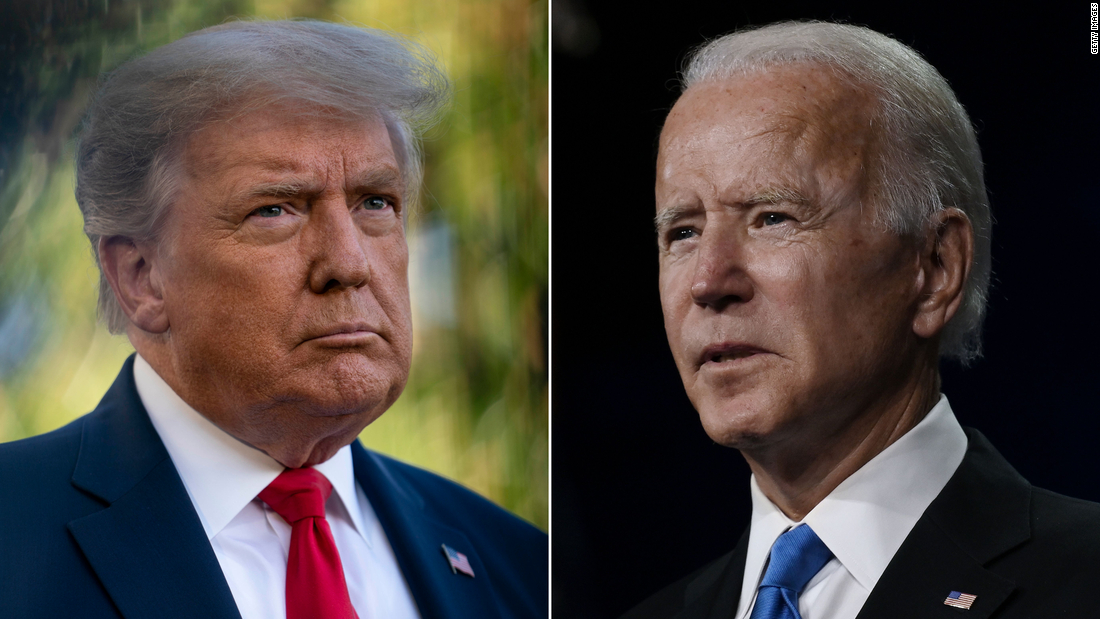 As Biden seeks to head off a potentially deadly and destabilizing military incursion in Eastern Europe, Trump and his allies are ramping up their efforts to infiltrate the roots and branches of American democracy. With a new election season on the horizon, the former President and MAGA-friendly organizations are on the offensive, imposing a domestic Trumpification process concerned as much with ridding the GOP of his opponents as elevating his allies.
There is nothing unusual about the most popular figure in a political party working to smooth the political road for like-minded candidates. Former President Barack Obama is still, nearly five years after leaving the White House, the most desired endorsement in Democratic politics. But the nature of Trump's influence is, of course, fundamentally different and the programmatic messaging of his acolytes — especially lower down the ticket — reflects a fealty to Trump and his fictions that threatens to corrode the most basic levers of government.
The process has been sped in part by current, Trump-critical Republican officeholders who have opted for the exits rather than face the wrath of his supporters or sure defeat in GOP-dominated elections.
Perdue's video announcing his candidacy offered a vision of Trumpism with a smiling face, as he borrowed from the aesthetics — half-zip collar, mention of parental control of schools — of Virginia's Republican Gov.-elect Glenn Youngkin, who ran a campaign this year that successfully downplayed Trump. But the former Peach State senator, who lost in a runoff earlier this year, included in his indictment of Kemp a mention of Georgia Secretary of State Brad Raffensperger, the GOP election official who repeatedly shot down Trump's claims of voter fraud in the state.
Ironically, Perdue blamed both men for the country's divisions — even though it was Trump who stoked fears of mail-in voting that may have kept Georgia Republicans home last January and cost Perdue his seat.
In a statement late Monday endorsing Perdue, Trump echoed parts of the new candidate's remarks, but, per usual, set aside the dog whistle for a bullhorn when it came to the 2020 election.
"Kemp has been a very weak Governor — the liberals and RINOs have run all over him on Election Integrity, and more," Trump said. "Most importantly, he can't win because the MAGA base — which is enormous — will never vote for him."
Kemp's ability to garner support from Trump die-hards is obviously in doubt. But the suggestion that Kemp, Georgia's former secretary of state, has been a bystander or wallflower in the national voting rights fight is plainly absurd — and not in a way that flatters him.
If anything, Kemp's longtime support for and dogged implementation of strict voting laws probably helped Trump keep the 2020 race as close as it ended up being. And he signed restrictive new measures into law in March following Biden's victory in the state.
Georgia Republicans are now poised for a knock-down, drag-out gubernatorial primary that could sour middle-of-the-road voters on the eventual nominee and lend a hand to Democrat Stacey Abrams, who is running again in 2022 after falling just short of defeating Kemp in 2018. In a state that's likely to be the political epicenter of next year, Trump has already handpicked candidates in the Senate race — encouraging Herschel Walker to run despite some Republicans' concerns about his past — and backing GOP Rep. Jody Hice, who voted against certifying the presidential election, against Raffensperger.
It's this push to aid or install Trumpist candidates farther down the ballot, especially in state legislative or election official races, that might actually be cause for greater concern. The policy-making power invested in those offices is lesser than that of a governor or US senator, but their ability to meddle with or undermine bigger elections was underscored during the nervy days following Biden's victory last year, when Trump loyalists pushed them to take extralegal steps to reverse or refuse to certify the results.
Trump's ticket takes shape
Two of the Republican candidates for high office in Michigan, where Biden won by more than 154,000 votes, openly sought to subvert the outcome. Kristina Karamo, a poll challenger running for secretary of state, falsely claimed Trump won the state in 2020. Matthew DePerno, who filed a dubious lawsuit challenging the election results, is now running for attorney general. Both have Trump's endorsement.
The list of election conspiracists either already occupying influential positions or vying to obtain them goes on — but it doesn't end with more slightly more buttoned-down officials, operatives and activists with prior electoral experience.
Public Wise, an election rights organization formed in 2019, is working to launch a searchable database of records on individuals and groups in powerful positions who were involved in the January 6 riot on Capitol Hill. The group told CNN it now has more than 1,000 records indicating that nearly 200 alleged insurrectionists are holding or seeking seats in Congress, statewide offices, and on city councils, school boards and other local offices.
"The dangerous ideology that fueled the insurrection of January 6th is spreading across every level of government, accelerated by former President Trump's deliberate effort to install insurrectionists and believers in the 'big lie' at every level of our government," said Public Wise Executive Director Christina Baal-Owens. "Electing the same individuals who attacked the Capitol on January 6th poses a direct threat to American democracy, especially as we look ahead to the 2022 midterms and 2024."
Leading figures in Trump's orbit have made no secret of their desire to systematically stock government with movement loyalists. Steve Bannon, who helped steer Trump to election in 2016 and briefly served as his chief strategist and senior counselor in the White House, has made his podcast a hub for below-the-radar organizational efforts.
In an interview with CNN, he spelled out the strategy in simple terms.
"It's about winning elections with the right people — MAGA people," Bannon said. "We will have our people in at every level."
Whether the tactic is successful remains to be seen. Youngkin and New Jersey's Jack Ciattarelli, who nearly ousted Democratic Gov. Phil Murphy in a shockingly close race this November, did better than expected in part by keeping Trump out of the campaign discourse and — literally — outside state lines. Trump played along this year; he's unlikely to be so deferential, or receding, during a campaign he seems to regard as a referendum on his own popularity.
Source link