Sports
Vikings post-Super Bowl 2021 mock draft roundup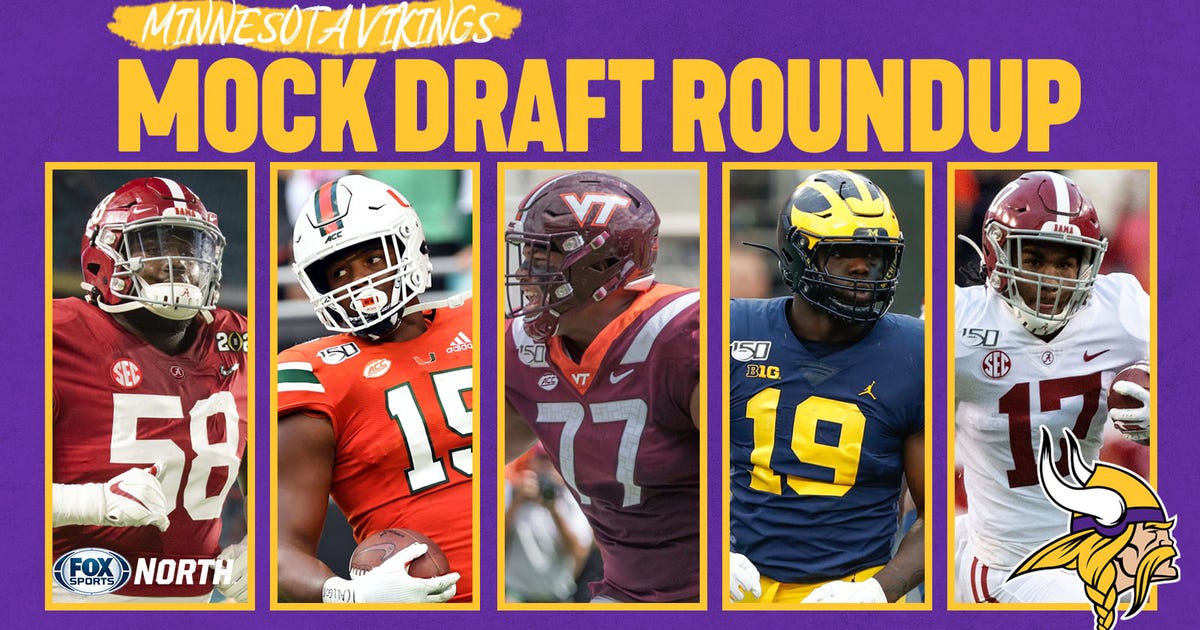 The NFL season ended Sunday night — meaning everyone is now officially looking ahead to 2021.
The draft will be held April 29-May 1. Certainly, things will change before then — players will be cut, perhaps traded and other signed.
How much more will draftniks know, though? The Senior Bowl was held but the NFL combine and pro days will be virtual events or lightly attended gatherings.
This will be our second look at mock drafts concerning the Minnesota Vikings; we did our first right after the end of the regular season. We'll continue to provide mock draft roundup updates sporadically leading up to the draft and see how much things change (we've noted previous mock picks from our first roundup if applicable).
As usual, there's no unanimous choice on which direction the Vikings might go in the first round, although defense seems to be the big area of interest, mainly on the defensive line.
Most mock drafts only tackle the first round, but if there's more (yes, some do the full seven rounds), we've noted it and included all the picks, too, of course. Side note: Minnesota has no second-round pick but additional picks in the third, fourth and fifth rounds.
Here's our second roundup of mock drafts from around the web:
Chad Reuter of NFL.com (3 rounds): Round 1 – Jason Phillips, Edge, Miami (note: projected trade down to No. 19). "The Vikings had one of the worst pass rushes in the league in 2020, and smartly traded Yannick Ngakoue when it was clear the season was not going as planned. Phillips possesses a nice combination of pass-rush ability and strength to hold the line of scrimmage."; Round 2 – Andre Cisco, S, Syracuse (note: also part of the trade); Round 3a – Kyle Trask, QB, Florida; Round 3b – Trey Smith, G, Tennessee; Round 3b (projected comp. pick) – Alim McNeill, DT, North Carolina State.
Eric Edholm of Yahoo Sports: Ali Vera-Tucker, OL, USC. "The Vikings might need a guard or a tackle, depending on the team's plans for Riley Reiff returning and what position they like Ezra Cleveland at best. But Vera-Tucker's versatility, having played well the past two seasons at guard and tackle, helps make this an easier pick."
DraftTek (7 rounds): Round 1 – Jaylen Waddle, WR, Alabama; Round 3a – Teven Jenkins, OT, Oklahoma State; Round 3b – Quinn Meinerz, C, UW-Whitewater; Round 4a – Dayo Odeyingbo, DL, Vanderbilt; Round 4b – Marlon Tuipulotu, DL, USC; Round 4c – Ar'Darius Washington, S, TCU; Round 5a – Jordan Smith, Edge, UAB; Round 5b – Monty Rice, LB, Georgia; Round 6 – Trill Williams, CB, Syracuse; Round 7 – Demetric Felton, RB, UCLA;
Vinnie Iyer of the Sporting News: Kwity Paye, Edge, Michigan. "The Vikings saw their edge rush become a mess without injured Danielle Hunter and could use a versatile lineman to continue the rebuild of Mike Zimmer's defense, now more focused on the front. Paye is a freak of nature and has quickly shot up draft boards. It's hard not to think about a combination of Ziggy Ansah and Jason Pierre-Paul in that sense." Previously: Wyatt Davis, OG, Ohio State.
Dane Brugler of The Athletic ($): Gregory Rousseau, OLB/Edge, Miami. "With his long, athletic frame, Rousseau is just scratching the surface of his potential. After opting out of the 2020 season, his pre-draft workouts will be paramount to convincing NFL teams that he is worthy of a spot in the top-20 picks."
Ryan Wilson of CBSSports.com: Christian Barmore, DL, Alabama. "The Vikings need help along the defensive line and in the secondary as well, but with two edge rushers already off the board, addressing the interior with Barmore, our DT1, makes sense in the middle of Round 1. Barmore flashed throughout the '20 season but got red hot over Alabama's final four games." Previously: Rashawn Slater, OL, Northwestern.
Chris Trapasso of CBSSports.com: Kwity Paye, Edge, Michigan. "The Vikings have to revamp the entire defensive line this offseason. Paye is a rocked-up athletic specimen." Previously: Jaelan Phillips, DL, Miami
Josh Edwards of CBSSports.com: Gregory Rousseau, OLB/Edge, Miami. "Minnesota embraced a rebuild last season whether they recognized it or not. The cornerback position was overhauled and Everson Griffen was released. I would expect the youth movement to continue as they look to replace Griffen with Gregory Rousseau." Previously: Rousseau.
Bucky Brooks of NFL.com: Kwity Paye, Edge, Michigan. "The Vikings' defensive decline can be attributed to a non-existent pass rush that clearly missed the injured Danielle Hunter. Paye has the potential to develop into a high-end edge rusher in a few years."
Lance Zierlein of NFL.com: Alijah Vera-Tucker, OT, USC. "One of the most surprising developments from the 2020 college season was Vera-Tucker's play at left tackle after transitioning from guard. Needless to say, he'll offer guard/tackle flexibility at the next level and would be an instant upgrade on the Vikings' O-line."
Dan Kadar of the Akron Beacon Journal: Kwity Paye, Edge, Michigan. "Pressure might be building on Vikings head coach Mike Zimmer after an uneven 7-9 season. That might mean Zimmer is less prone to taking a project edge player like Gregory Rousseau of Miami. Instead, he could go after an instant-impact player like Paye. The 6'4, 272-pound Paye can win with power and speed."
Michael Renner of Pro Football Focus: Christian Barmore, DL, Alabama. "The Vikings need edge and interior, so this decision comes down to positional scarcity. It's a weak defensive tackle class, and Barmore is a massive upgrade as a prospect over what you can find in the second or third round at defensive tackle. The edge class is much deeper, though, and it includes some athletic projects who will fall." Previously: Gregory Rousseau, OLB/Edge, Miami.
Luke Easterling of Draft Wire: Gregory Rousseau, Edge, Miami.
Brett Sobleski of Bleacher Report: Gregory Rousseau, Edge, Miami.
Dalton Johnson & Josh Schrock of NBC Sports Bay Area: Kwity Paye, Edge, Michigan. "The Vikings badly need help rushing the passer. Paye is considered perhaps the best pass rusher in a class that isn't too deep with Day 1 talent at the position. This pick just makes too much sense."
Brad Crawford of 247 Sports: Christian Barmore, DL, Alabama. Previously: Micah Parsons, LB, Penn State.
Walter Cherepinsky of WalterFootball.com (5 rounds): Round 1 — Christian Barmore, DL, Alabama. "The Vikings need as much defensive help as possible. They have to bolster their defensive line to replace some recent departures. Christian Barmore has nice length, quickness and athleticism."; Round 3a – Jamie Newman, QB, Georgia; Round 3b – Tamorrion Terry, WR, Florida State; Round 4a – Grant Stuard, LB, Houston; Round 4b – Caden Sterns, S, Texas; Round 4c – Elijah Molden, CB, Washington; Round 5a – Adetokunbo Ogundeji, DE, Notre Dame; Round 5b – Spencer Brown, OT, Northern Iowa. Previously (3 rounds): Round 1 — Barmore; Round 3a – Kellen Mond, QB, Texas A&M; Round 3b – Tylan Wallace, WR, Tulane.
Charlie Campbell of WalterFootball.com (3 rounds): Round 1 — Jaleen Phillips, DE, Miami. "The Vikings could use more young defensive line talent. Phillips, Danielle Hunter and D.J. Wonnum could give Minnesota a talented group of pass rushers."; Round 3a – Jared Goldwire, G, Louisville; Round 3b – Rashod Bateman, WR, Minnesota.
Matt Williamson of Pro Football Network: Gregory Rousseau, Edge, Miami. "Mike Zimmer's defense is predicated on getting a consistent pass rush off the edge. With Danielle Hunter out in 2020, Minnesota's defense (which allowed 6.1 yards per play) was really lacking in this department. The combination of Gregory Rousseau and Hunter could be really something, though."
Ralph Vacchiano of SNY.com: Kwity Paye, Edge, Michigan.
Joe DiTullio of GameHaus: Gregory Rousseau, Edge, Miami. Previously: Kwity Paye, OLB/Edge, Michigan.
Ben Ramos-Salsberg of Last Word on Sports: Jaycee Horn, CB, South Carolina.
Paul M. Banks of The Sports Bank: Dylan Moses, ILB, Alabama.
Robby Esch of The Huddle Report: Azeez Ojulari, Edge, Georgia.
Brian Johannes of The Huddle Report: Christian Barmore, DL, Alabama.
Drew Boylhart of The Huddle Report: Christian Darrisaw, OT, Virginia Tech.
Kyle Crabbs of The Draft Network (2 rounds): Christian Darrisaw, OT, Virginia Tech.  (note: Projected trade with Indianapolis down to No. 21) "Go ahead, Vikings fans. Pinch yourselves. This really happened. Y'all got the trade down that stocks up extra picks and then still managed to see Christian Darrisaw fall into your lap. Darrisaw would allow Minnesota to begin to brace for a transition away from Riley Reiff, who is entering into the final year of his contract, will be 33 years old this season, and is owed nearly $12M in new cash."
FIRST-ROUND TALLY (in alphabetical order)
Christian Barmore, DL, Alabama 6
Christian Darrisaw, OT, Virginia Tech 2
Jaycee Horn, CB, South Carolina
Dylan Moses, ILB, Alabama
Azeez Ojulari, Edge, Georgia
Kwity Paye, Edge, Michigan 6
Jason Phillips, Edge, Miami 2
Gregory Rousseau, OLB/Edge, Miami 6
Ali Vera-Tucker, OL, USC 2
Jaylen Waddle, WR, Alabama