Sports
Packers Snap Counts: Rookie Barnes steps up in playoff debut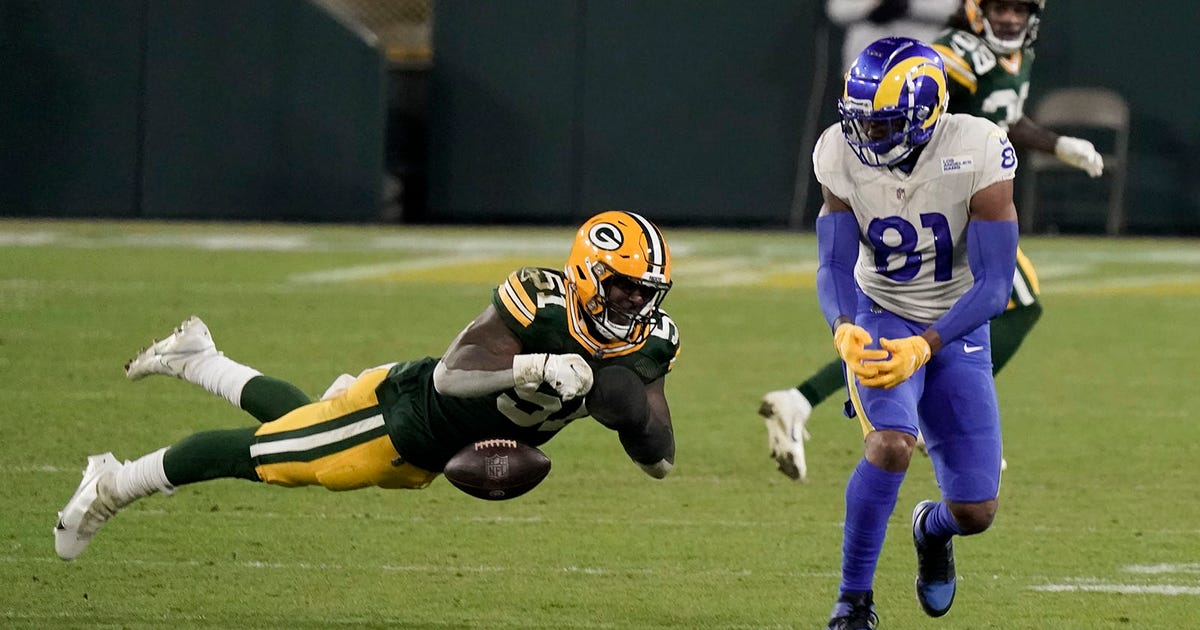 In his first career playoff game, Green Bay Packers linebacker Krys Barnes showed he belongs on football's biggest stage.
The undrafted rookie out of UCLA played 48 of Green Bay's 53 defensive snaps (91%) against the Los Angeles Rams, the most of any Packers linebacker. He led the team with 10 tackles (seven solo) — four on the Rams' opening drive alone — and a pass deflection.
Oh, and he did all that despite fracturing his left thumb late in the first quarter. Barnes returned to the field after missing just five plays and finished the game wearing a club on his hand.
Talk about taking one for the team. Barnes is expected to wear the club for the remainder of the postseason.
Of course, this performance from Barnes doesn't come as a surprise. Barnes was a training camp standout and started the season opener against Minnesota on Sept. 13. Barnes finished the regular season as the Packers' second-leading tackler (80) and registered the third-most tackles for loss (5), despite playing fewer snaps on defense than fellow linebackers Rashan Gary and Christian Kirksey.
Other notes from Saturday's snap counts:
— Tight end Robert Tonyan tied a career high with 48 offensive snaps on the field. Entering the game with no career offensive stats in the playoffs, Tonyan caught four passes for 60 yards.
— Running back Aaron Jones was one yard away from his first career 100-yard playoff game. He logged 14 carries for 99 rushing yards and a score while playing 63% of the snaps.
— Kenny Clark and Gary tallied 1.5 sacks apiece. Clark played 87% of the snaps, and Gary was on the field for 62% of the plays — his third-highest clip of the season.
— Billy Turner played every offensive snap while filling in for All-Pro David Bakhtiari at left tackle. The Packers offensive line guided Green Bay to 188 rushing yards and did not allow Aaron Donald and the Rams to sack Aaron Rodgers.
— Wide receiver Tavon Austin played just one snap. In five games with the Packers, Austin has five catches for 20 yards. He's averaging 6.2 yards per punt return in seven tries.
PLAYOFF GAME 1: VS. LOS ANGELES RAMS (OFFENSE)
| | | |
| --- | --- | --- |
| PLAYER | PLAYS (75) | % |
| Patrick | 75 | 100% |
| Jenkins | 75 | 100% |
| Turner | 75 | 100% |
| Wagner | 75 | 100% |
| Linsley | 75 | 100% |
| Rodgers | 75 | 100% |
| Adams | 62 | 83% |
| Lazard | 54 | 72% |
| Tonyan | 48 | 64% |
| Jones | 47 | 63% |
| Lewis | 38 | 51% |
| Valdes-Scantling | 36 | 48% |
| St. Brown | 32 | 43% |
| Williams | 28 | 37% |
| Dafney | 20 | 27% |
| Dillon | 9 | 12% |
| Austin | 1 | 1% |
PLAYOFF GAME 1: VS. LOS ANGELES RAMS (DEFENSE)
| | | |
| --- | --- | --- |
| PLAYER | PLAYS (53) | % |
| Amos | 53 | 100% |
| King | 53 | 100% |
| Alexander | 53 | 100% |
| Savage | 53 | 100% |
| Sullivan | 49 | 92% |
| Barnes | 48 | 91% |
| Lowry | 47 | 89% |
| Clark | 46 | 87% |
| Z. Smith | 45 | 85% |
| P. Smith | 41 | 77% |
| Gary | 33 | 62% |
| Lancaster | 20 | 38% |
| Redmond | 18 | 34% |
| Kirksey | 14 | 26% |
| Martin | 4 | 8% |
| Harrison | 3 | 6% |
| Price | 3 | 6% |