Sports
MLS Footnotes: Atlanta United, Timbers feelings effects of league parity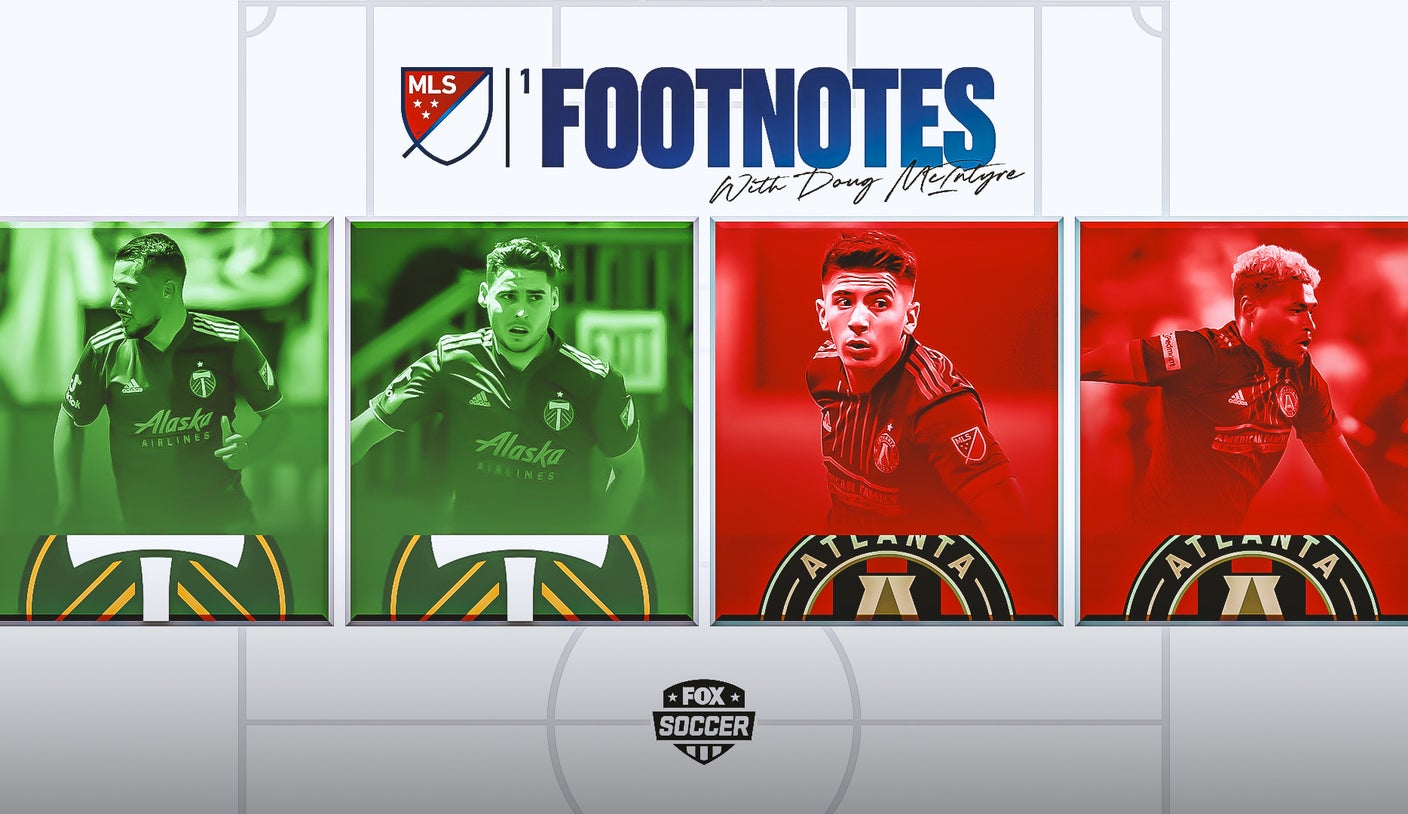 By Doug McIntyre
FOX Sports Soccer Writer
Editor's Note: MLS Footnotes takes you inside the major talking points around the league and across American soccer.
In the run-up to Major League Soccer's launch in 1996, the founding fathers — aka MLS's original owners and executives — were clear on one thing above all else.
If the first top-flight professional circuit in the United States (a Canadian club wouldn't join MLS until more than a decade later) since the demise of the star-studded but financially unsustainable North American Soccer League was to have any chance of surviving long term, fans in every market every year had to believe their team had some hope of winning the title.
Manufactured parity is the foundation that MLS was built and has thrived on. Sunday's nationally televised match between the Portland Timbers and Atlanta United (5:30 p.m. ET, FOX/FOX Deportes/FOX Sports app) puts this guiding philosophy on full display.
By any measure, Portland and Atlanta are two of MLS's marquee clubs. The Timbers have participated in three of the last seven MLS Cups (winning once), are as relevant in their own city as any team in the league, and have a history dating to the 1970s.
Meantime, United beat Portland in the 2018 MLS Cup final in front of a then-record crowd of 73,019 and averages almost 50,000 fans a game, easily the highest in MLS and more than European heavyweights like Chelsea, Juventus and Paris Saint-Germain.
Yet heading into week 29 of the 34-week 2022 regular season, it's possible that neither club will manage the top-seven finish in their own conference required to qualify for the playoffs.
It sure doesn't look good for injury ravaged Atlanta after a 4-1 midweek loss at the Philadelphia Union. Portland has a tenuous hold on the final spot in the West despite winning their last two matches; the eighth-place LA Galaxy trail them by a single point, and still have two games in hand.
Again, this is by design.
The top leagues across planet fútbol have always been — and continue to be — top-heavy. Bayern Munich has won nine consecutive Bundesliga titles in Germany. In Italy's Serie A, Juventus captured nine straight Scudettos between 2011-20. The three Spanish giants (Atletico Madrid, Barcelona and Real Madrid) have taken every La Liga crown since 2005, while only twice in the last 10 years has PSG not finished atop Ligue 1 in France.
Even in England's Premier League — the richest, most competitive and best of the Big Five — it's not much different these days. While seven different teams have won the Prem since it was established in 1993, Manchester City were the champs in four of the last five seasons.
For good reason, haves and have-nots weren't what MLS's founders wanted. The sport was in a different place in the U.S. and Canada in 1996. Letting the biggest-spending teams dominate the way the Pele-headlined New York Cosmos had in winning five titles in 16 seasons in the old NASL could lead to smaller clubs folding, eventually taking the entire operation down with them. And also, it was no fun.
Supporters of a team like England's Aston Villa — a historic club with an enormous following that simply doesn't have the resources, realistically, to ever compete for the domestic championship — buy tickets and jerseys year in, year out despite that fact. New fans in Kansas City wouldn't. The sport is ingrained in the culture in the old world. Almost 30 years into MLS's history, soccer still exists on the fringes of the mainstream in most places in North America whenever a World Cup isn't going on. The league hasn't even reached its 30-team goal yet and won't for a few more years.
Some may argue that not having the same few teams compete for the trophy every year hurts MLS. After all, the Premier League's explosion in popularity in the early-to-mid- 2000s was in part fueled by the arms race between Arsenal, Chelsea and Manchester United (and more recently Liverpool and Manchester City).
MLS, on the other hand, is competitive top to bottom. The Seattle Sounders won the CONCACAF Champions League four short months ago and are still on pace to miss the MLS playoffs for the first time since they joined the league in 2009. 
The MLS playoff system is another field-leveler. For if Atlanta or Portland do make it in the end, well, anything can happen then. The previous 34 games won't matter. Four postseason wins and the silverware is theirs.
And if they don't? No worries. In MLS at least, there's always next year.
FOOTNOTES
1. If it ain't broke …
No team was busier on the transfer front this summer than league-leading LAFC. The June signings of decorated European veterans Gareth Bale and Giorgio Chiellini got most of the attention, but since early July general manager John Thorrington also added midfielder Sebastian Mendez, forwards Denis Bouanga and Cristian Tello and shipped out defender Doneil Henry, midfielder Francisco Ginella and three attackers: Danny Musovski, Ismael Tajouri-Shradi and Brian Rodriguez.
That's a lot of turnover for a team that was already the best in MLS by May. How much is too much? After winning seven straight games to cap an 11-1-1 run, LAFC has now lost three in a row. The smart money is on Steve Cherundolo's team turning things around, starting at home this weekend against Real Salt Lake. Still, it's hard to integrate five new players midseason. Successful teams are delicate ecosystems, and it doesn't take much to knock them off-kilter. Once shoo-ins for the Supporters Shield, LAFC is now tied on points with East leader Philly.
It will be interesting to see if LAFC can find their feet.
2. Win* and they're in
Austin FC still sit third in the Shield race despite their midweek defeat to the Timbers. This weekend, they can become the third team after LAFC and Philly to clinch a postseason spot
A win in Nashville Saturday night would do it. So would a tie, provided Portland loses and other results go their way. And if things break just right a loss might even be enough, as it was for LAFC in San Jose a few weeks back. 
3. Red alert 
The summer arrival of Italian internationals Federico Bernardeschi and Lorenzo Insigne transformed Toronto FC. But after going 3-1-1 from both players' July 23 debut, the Reds are 1-1-1 since. Wednesday's 2-2 tie with the LA Galaxy certainly felt like a loss after Toronto conceded the equalizer to Riqui Puig in the 89th minute. But what a goal it was:
With five games left, Bob Bradley's team now has virtually no margin for error. TFC sits two points out of the final playoff spot in the East, and seventh place Miami has played one fewer game. Oh, and the Reds next match just happens to be against rival Montreal, which boasts the fourth-best record in MLS.
4. Stars aligning?
For the Galaxy, Wednesday's last-gasp draw felt like a win. But they need to use that momentum to get an actual victory in their next contest, on Sunday at home against 26th overall Sporting Kansas City.
While Chicharito and Co. are one of just three playoff hopefuls with as many as seven games remaining, only two are in Carson after this weekend. The others are at desperate Vancouver, resurgent Nashville, original California rival San Jose and Houston, which would love to play spoiler on Decision Day.
5. Stoppage time
Six points behind arch nemesis Portland with just six games left, the Seattle Sounders are in real trouble now after going 0W-4L-1T in their last five.
The explanation all season was that the Champions League run took too much out of them. There's actually a more obvious one: injuries. For all the talk about Atlanta's laundry list of walking wounded, Seattle's is nearly as long. Losing João Paulo to a season ending ACL tear in the regional final hurt, but Seattle could've overcome it had his replacement, 17-year-old Obed Vargas, not gone down with a back ailment a few weeks later. Vargas hasn't played since.
Raúl Ruidíaz has been healthy enough to start just 11 of the Sounders' 28 games. Nicolás Lodeiro, Jordan Morris, Cristian Roldan and Yeimar have all missed matches, too.
In a league built on parity, that sort of bad luck could be too difficult to overcome.
One of the leading soccer journalists in North America, Doug McIntyre has covered United States men's and women's national teams at multiple FIFA World Cups. Before joining FOX Sports in 2021, he was a staff writer with ESPN and Yahoo Sports. Follow him on Twitter @ByDougMcIntyre.
---
Get more from MLS Follow your favorites to get information about games, news and more.
---
---