Sports
Bucks' Middleton off to a 50-40-90 start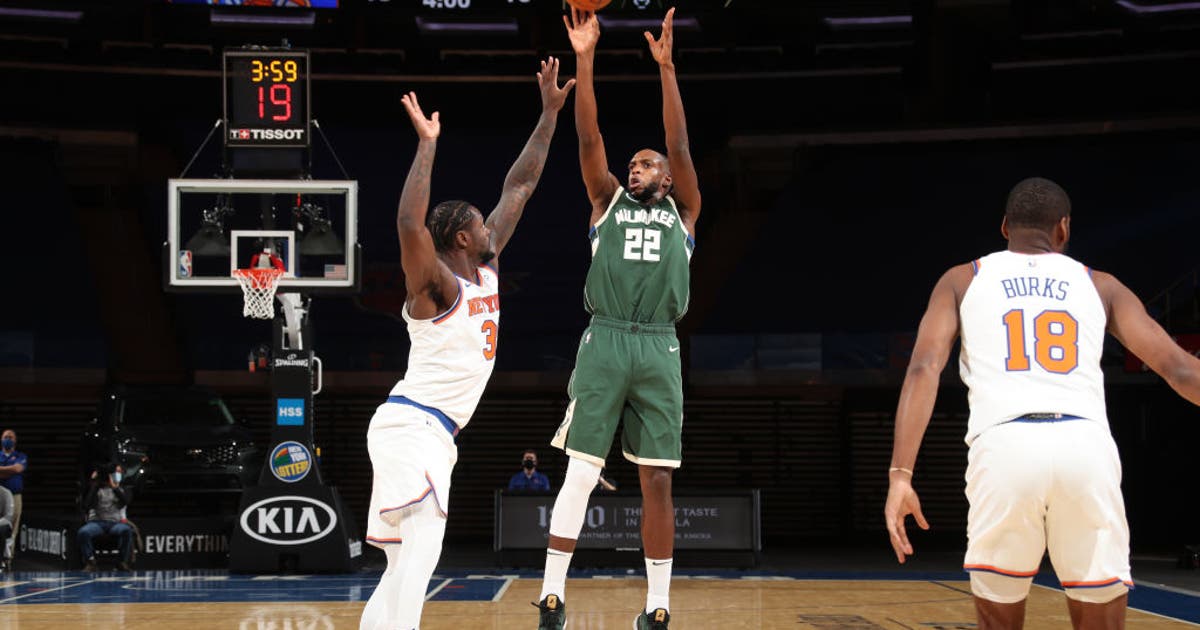 Milwaukee Bucks forward Khris Middleton has gotten off to a great start to the season.
He's averaging 20.8 points, 6.1 rebounds and 6.0 assists per game, but if you look deeper he's been ever better.
Middleton is a part of the 50-40-90 club so far. He's shooting 52.1% from the floor, 44.8% from long range and 93.8% from the free-throw line.
He is one of four NBA players with those numbers at this point in the season. Brooklyn Nets guard Kyrie Irving, Los Angeles Clippers forward Paul George and Philadelphia 76ers guard Seth Curry have also reached those thresholds.
The Bucks' sharpshooter almost made the 50-40-90 club last season, connecting on 41.5% of his 3-pointers, 91.6% of his free throws but just 49.7% of his overall shot attempts.
Middleton is not the only Milwaukee star scoring efficiently. Giannis Antetokounmpo enters play Wednesday night vs. the Phoenix Suns shooting 55.7% from the floor, which is his second-best shooting percentage of his career, behind his 2018-19 campaign when he shot 57.8% and won his first MVP.
Moreover, Antetokounmpo has recorded the most 30-point games while shooting at least 50% since the beginning of last season. He has 39 of those games in that time frame, far more than Washington Wizards guard Bradley Beal who has put up those statistics in 28 games.
Antetokounmpo has been especially efficient against the Suns with a career 58.5% field-goal percentage vs. Phoenix.
If one of the Bucks' stars does happen to miss, there is a good chance Bobby Portis grabs the rebound. The new Buck leads all NBA bench players with 167 total rebounds and averages 7.4 boards per game.
Combine all that together and it makes sense why Milwaukee's offense is actually more efficient this season through 24 games than it was last year when it started the season 21-3. The Bucks may be 16-8, but they are scoring more points per game (121.3 in 2020-21, 120.5 in 2019-20), connecting on more shots (49.4%, 48.2%) and shooting better from deep (40.1%, 35.6%).
One reason why Milwaukee's record isn't better with the offensive improvement is because the defense has slipped a bit. Last year the Bucks held opposing teams to 107.2 points per game. This year they are holding teams to 111.4 points per game. Same goes for their foes' shooting percentage, which was 41.2% in 2019-20 and has been 44.9% in 2020-21, and for their opponents' 3-point shooting percentage, which was 36.5% last season and has jumped up to 38.4% this season.
Statistics courtesy of Sportsradar.com